About Point Clouds
A point cloud is a type of geometry that is useful for storing large amounts of data, typically gathered from LIDAR applications. The use of LIDAR allows for fast and accurate collection of data, such as for forestry canopy measurements, or landscape modeling.
Point cloud geometry allows for quick and efficient processing of a large collection of vertices in 3D space that represent the external surfaces of objects. Together, these vertices form a model which can be transformed, and visualized. Some operations of the point cloud geometry involve thinning, splitting, and combining to produce a more useable set of vertices. This is an example point cloud image: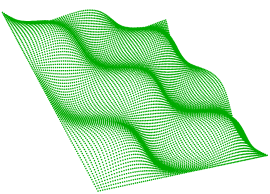 Associated with each vertex are a number of properties called components, which contain a value that describes the point.
These component values can be used to classify different sections of the collection of points contained in the point cloud geometry.
All components have a name and type. Possible component types are Real64, Real32, UInt64, UInt32, UInt16, UInt8, Int64, Int32, Int16, Int8, and String. Numeric components additionally may have a scale and offset factor; in such cases, the applied value of the component will be value x scale +offset. String components additionally may have an encoding.
While components may have any name, there are a few common components that exist in several formats. These components are described in the following table.
Source: https://docs.safe.com/fme/html/FME_Desktop_Documentation/FME_ReadersWriters/cesium3dpc/about_point_clouds.htm